"Hilarious, acutely knowing… Yet comedy enables Brown to dig into the artindustry equation that is the eternal Hollywood challenge, as well as questions about values, priorities, standards, goals — all leading to what is all-important: self-knowledge. It's not too much to hazard that Billy Wilder would have enjoyed The Blue Tooth Virgin."
– The Los Angeles Times
"What's striking, brilliant, and refreshing about this story is its sheer minimalist quality… And what dialogue it is! Beautiful and quotable, intriguing and challenging. There are so many great themes here, you truly wonder how writer/director Russell Brown will find something else to write about in future projects." – MTV.com
Synopsis
An inside look into the politics of the creative process, two friends, both writers, face the daunting challenge of delivering negative criticism, but learn that the process can become a catalyst for self discovery and growth. Sam, an aspiring screenwriter, and David, a successful magazine editor, have been pals for years. When David doesn't appreciate Sam's latest screenplay, it opens a fissure in their friendship, one that spreads through to the rest of their lives. Ultimately, both men must reevaluate their motivations to write, their need for praise and validation, and what it means to see yourself as you actually are.
Credits
Written and directed by

Russell Brown
Produced by
Russell Brown
Roni Deitz
Edited by
Christopher Munch
Curtiss Clayton
Cinematography by
Marco Fargnoli
Starring
Bryce Johnson
Austin Peck
Also Starring
Roma Maffia
Karen Black
Lauren Stamile
Tom Gilroy
Press
"A witty and humorous repartee on the struggle of artistic pursuit. Through the rollercoaster relationship between two screenwriters, Russell Brown nails the need for validation that drives many Hollywood strivers. Money and fame offer allure, but the confirmation of self-worth keeps some of the least successful toiling away for years. For David and Sam, maintaining a friendship proves equally difficult."
– Seattle International Film Festival Guide


"Simultaneously insightful and idiotic, sustaining a frisky rhythm in both its dialogue and its casually kinetic mise-en-scene." – Variety


"Hilarious, acutely knowing… Yet comedy enables Brown to dig into the art-industry equation that is the eternal Hollywood challenge, as well as questions about values, priorities, standards, goals — all leading to what is all-important: self-knowledge. It's not too much to hazard that Billy Wilder would have enjoyed The Blue Tooth Virgin." (Los Angeles Times) "What's striking, brilliant, and refreshing about this story is its sheer minimalist quality… And what dialogue it is! Beautiful and quotable, intriguing and challenging. There are so many great themes here, you truly wonder how writer/director Russell Brown will find something else to write about in future projects." – MTV.com

"The dialogue is crisp, funny, and frequently, happily, nasty, and the film speaks at once to those directly immersed in the machinations of the film industry, and to everyone who puts their creativity, and their egos, on the line." –The Huffington Post


"…Playing like a junior version of an early David Mamet talkfest, this arch look at the ups and downs of struggling screenwriters has more than its share of well-landed zingers…" – Robert Horton, The Herald


"…The Blue Tooth Virgin nails this mentality and hammers it right to the wall. The pain, the self-doubt, the insecurity, the anger, all of it resides deep within these two characters and watching them evolve as they deal with it was far more fascinating and enthralling than I had originally thought it would be…" – Sara Fetters, Moviefreak.com


"…Brown understands that people, especially writers, seem to need validation, and this is one of the reasons why they need to write and to be told their work is worthy…" – Mike Caccioppoli, CinCity2000.com


Russell Brown's hilarious, acutely knowing "The Blue Tooth Virgin" takes its title from a screenplay an aspiring screenwriter, Sam (Austin Peck), has given to his friend David (Bryce Johnson), a successful magazine editor, to read. David finds the script terrible, a murky business about a troubled young woman with an urge to morph. David tries to let Sam down easy, but Sam, who did write a well-received TV series that ran one season, can't take criticism. Returning to his apartment, Sam is further dismayed to discover that his wife (Lauren Stamile) not only has a low opinion of the script but also of him, saying that he's interested only in praise and she is seriously considering leaving him.
Brown, whose 2007 debut feature was the engaging contemporary romance "Race You to the Bottom," clearly knows the ways of Hollywood inside and out. Beyond this, he understands that it is possible to make a movie that has lots — and lots — of talk and is still cinematic and smartly paced. "Smart" sums up this movie, with its amusing line-drawing credits featuring an apt myth of Sisyphus image and its inserts of observations on writing from the likes of Samuel Johnson and Albert Camus.
Led by a bravura performance from Karen Black as Sam's expensive script consultant, Brown's people are laughably overly analytical. Yet comedy enables Brown to dig into the art-industry equation that is the eternal Hollywood challenge, as well as questions about values, priorities, standards, goals — all leading to what is all-important: self-knowledge. It's not too much to hazard that Billy Wilder would have enjoyed "The Blue Tooth Virgin."– Kevin Thomas, The Los Angeles Times


The Bluetooth Virgin is Worth WatchingYou've never heard of The Blootooth Virgin. You might never hear of The Bluetooth Virgin. But man, if the world was cooler and great storytelling always had a place at the table, The Bluetooth Virgin would crack everyone's top ten list this year. So I say to the studio execs, "release this!" Certainly there are still some smart folk out there who want to see movies, right? Anyone?
Set against the backdrop of Los Angeles, the city of broken dreams, the story explores the relationship between two friends, David and Sam. David is a magazine editor/writer whom Sam seeks out for advice on a screenplay he's writing. Sam is an aspiring screenwriter who has a long-canceled TV show to his credit, and he's looking for some affirmation and notes on his latest project from David. Embedded within that relationship are all the timeless questions that the superb stories ask (I'll get to those below). To its credit, this film doesn't give you all the answers … but it certainly makes you ponder.
What's striking, brilliant, and refreshing about this story is its sheer minimalist quality. I think there were seven scenes total in the 80 minute running time, with only six characters carrying the dialogue load. And what dialogue it is! Beautiful and quotable, intriguing and challenging. There are so many great themes here, you truly wonder how writer/director Russell Brown will find something else to write about in future projects. But if you're interested in dynamic, clever writing here's a taste of the topics and memes broached:
The role of criticism
The studio system and the constant release of the average film
Honesty and the obligation you owe a friend re: their writing
Art and the artist
The motivation of writers
Pop culture vs. classic work vs. selling out vs. integrity
Validation and the envy of others
Being a great writer vs. having an ego vs. the need everyone has to be "seen"
It goes on and on, building upon itself and coiling like a snake until you can't help but become involved in the characters. The film has a very crisp tone; I would recommend it to anyone looking for something in the vein of Glengarry Glen Ross. I chuckled quite a few times and I ruminated on concepts quite a few more as the story shifted and built momentum.
There's not much to complain about here save for the notion that films like this rarely get released. We can cry all we want but people seem to really like explosions and monsters. Does that mean I refuse to hope for and recommend a film like this? Nah. These are the sorts of films that keep a fellow sane. These are the sorts of films that might not resonate today, even though they keep film squarely within the evolutionary process. Sure, The Bluetooth Virgin may not find love right around the corner, but it's a film I'll have no problem recommending 20 years from now. That's got to count for something.
Grade: A
– Laremy Legel, Film.com


Simultaneously insightful and idiotic, sustaining a frisky rhythm in both its dialogue and its casually kinetic mise-en-scene.
A struggling screenwriter entrusts his precious script to a longtime friend for appraisal, triggering various leapfrogging conversations and confrontations in "The Blue Tooth Virgin," Russell Brown's witty, engaging, totally actionless talkfest ("Rohmer lite," as Brown pegged it). Simultaneously insightful and idiotic, the minimalist pic features a succession of experts providing their two cents on Why We Write, the pitfalls of friendship and the need for outside validation. Sustaining a frisky rhythm in both its dialogue and its casually kinetic mise-en-scene, "Virgin," which opened Sept. 25 in New York and Los Angeles, will likely please and alienate in equal measure.
Pic is structured as a string of seven two-handers, the first a coffee-shop meeting between Sam (a wonderfully woebegone Austin Peck) and David (Bryce Johnson). Sam is a has-been screenwriter whose quirky TV series, "Cat's Paw Print," scored with critics but was canceled after its first season, while pal David thrives as a successful pop-culture magazine editor.
Sam graces David with his latest unproduced masterpiece and, from there, the pic follows David, flummoxed about how to reconcile his belief that the script, cryptically entitled "The Blue Tooth Virgin," is absolute garbage, with the exigencies of friendship.
A golf course rendezvous the following day sees David's attempts at indirection utterly fail to deflect Sam's thirst for approval, his criticisms bursting out more crudely for having been repressed. Their rift colors succeeding scenes, as Sam's upscale lawyer wife, Rebecca (Lauren Stamile), sides with David's literary critiques, leading to the possible dissolution of their marriage.
Pic's piece de resistance finds Sam visiting a New Age script witch-doctor (a magnificently diva-like Karen Black), who, for a mere $1,500 a pop, offers a surprisingly perceptive readings of the basic inauthenticity of his psyche.
As the film evolves from scene to scene, identification shifts from Sam to David and back again as the relative value of their respective endeavors is constantly questioned, with director Brown always maintaining a safe comic distance from his characters' opinions.
Title cards with handwritten pithy aphorisms (" 'Thank you for sending me your book. I'll waste no time reading it.' – Moses Hadas") formally introduce each two-person playlet, while jaunty Scott Joplin ragtime tunes inject notes of ironic buffoonery. – Robbie Scheib, Variety


In college, where self-indulgence and pretentiousness are practically their own electives, especially in the creative arts, a theater acquaintance who dabbled in his own brand of snarky, self-referential, low-fi music, wrote a song (for another friend's original stageplay, it's worth noting) in which he wearyingly noted it was "time to go put on the 'Good work!' facade." The Blue Tooth Virgin intriguingly transposes this notion of necessarily glad-handing feedback to Hollywood and the independent film realm, and chronicles the hurt and petty jealousy – common to almost any creative individual, as well as anyone who's felt the sting of a loved one or family member's shrug – that comes bubbling to the surface when niceties fall away and shared opinions aren't all rosy.
The film centers around two Los Angeles wordsmiths, Sam (Austin Peck, above left), an aspiring screenwriter with a cult success, short-lived TV credit to his name, and David (Bryce Johnson, of Sleeping Dogs Lie), a successful magazine editor at a locally based laddie publication. The duo have been friends for years, but when David doesn't appreciate Sam's latest script it opens a fissure in their friendship that spreads through the rest of their lives. Ultimately, both guys must reevaluate their motivations for writing, their need for outside praise and validation, and what it means to see yourself as you actually are.
Written and helmed by Russell Brown, a still-young multi-hyphenate with the benefit of both previous directorial know-how as well as different industry experience and the perspective which that provides, The Blue Tooth Virgin is named after the achingly arty screenplay Sam passes off to David for feedback. A noirish character study (because Sam is really all about character, as he frequently intones) full of transsexuals, private investigators, time-traveling and mystery, the narrative within the movie seems like a cheeky nod of homage to Tom DiCillo, who's aped the well-traveled grooves of independent cinema in movies like Living In Oblivion and The Real Blonde. It's the perfect leaping-off point for a discussion of what film could and should mostly be – a challenge to audiences, or a salve?
The nice, conversational rapport between Peck and Johnson – a sort of budget lookalike for Paul Walker – is the film's strongest selling point, and Brown imbues his work with real, lived-in dialogue that captures the ways we frequently muddy our feelings in trying to dance around directness. There's the danger of the movie becoming too insular, an inside-the-Beltway-type circle jerk of specifically artistic competitiveness and grievance. Brown mitigates this somewhat with an argument between Sam and his white-collar wife, Rebecca (Lauren Stamile), that, while solid in theory, needs to be anchored a bit more in tongue-loosened drunkeness than how it plays.
Interestingly, and decidedly for the better, The Blue Tooth Virgin also trades in long-form scenes that serve as call-and-response mirror images of one another. (Quotations on the turmoil of the artistic process help serve as chapter divides within the film.) Though this tack could be sacrificed and tweaked a bit up front for more energy and surface appeal, it helps him more or less get to the meat of his conceit, and pays dividends later in the movie, in a pair of engaging scenes in which Sam and David crawl inside their own heads (the former with a New Age-y creative consultant, the latter with a more conventional therapist) and try to root out what their writing means to them. Captured in simple, point-and-shoot, low-fi strokes, The Blue Tooth Virgin doesn't aim for grand-gesture profundity; it's nervous and ambivalent about "correct" notions of modern cinematic storytelling, as reflected in the gulf of opinion between its characters. But it entertainingly captures the ever-present tension between art and commerce, and again sets on a tee the age-old question: is it an audience that makes a work a legitimate piece of art? (Regent, R, 79 minutes) – Shared Darkness


WRITING WISDOM
David Lean once warned that filmmakers should, at all costs, avoid making movies with writers as protagonists because "nothing is more internal, nondramatic and dull" than the process of writing. But "The Bluetooth Virgin," an American indie that had its world premiere at SIFF Thursday night (repeating at 1:30 p.m. Saturday, Harvard Exit), defies this advice and comes off amazingly well.
It's a kind of "My Dinner With Andre" between two young Hollywood screenwriters: one (Austin Peck) a briefly successful but now stymied veteran, the other (Bryce Johnson) a magazine editor secretly writing a first script on the side. The film is so full of wisdom about the agony and ecstasy of writing — and the perils of asking a friend for advice — that it should be required viewing in all screenwriting classes. It also takes on the bitter irony that the screenplay form can be a satisfying vehicle for self-expression but the best efforts in that direction probably will never be produced, and the worst screenwriting can be the most financially rewarding. The film is low budget and uneven in spots, but the dialogue is biting, Russell Brown's direction is often razor-sharp and the action climaxes with a virtuoso cameo appearance by the great Karen Black as a wily and wise script consultant. – William Arnold, Seattle Post-Intelligencer


As I watched Russell Brown's new film, The Blue Tooth Virgin, the hairs on the back of my neck stood up as I faced on screen the insecurities and dark heart of writers everywhere. That it made me squirm in my seat proves that whatever flaws others may perceive in it, Brown honestly examines his subject matter. What starts off as a lean comedy poking fun at Hollywood culture gradually shifts into a deeper meditation on truth and ego as characters dissect their inner motivations and face their lurking desires heretofore tucked away from all, including themselves. Hitting theaters now courtesy of Regent Releasing, The Blue Tooth Virgin is a solid, character driven piece based on substance over style.
The film's narrative weight is shouldered by Sam, an unproduced screenwriter pining for success after his canceled television show and David, a stylish, witty magazine editor who is also Sam's friend. The seed that unleashes this Bergmanesque angst fest is quite simple; Sam has a new screenplay that he's getting ready to shop around town and wants David to read it for his thoughts. Now this is a loaded situation for anyone who has an artistic friend who requests your opinion on their work, if you're brutally honest then you're perceived as an unsupportive enemy or else you're simply massaging their ego and suppressing your own principles. If you want further reading on this subject, simply peruse screenwriter Josh Olson's recent blog for The Village Voice entitled, "I Will Not Read Your Fucking Script".
Suffice it to say, David does not enjoy Sam's quirky, Lynchian story about a woman who "morphs" into different people while trying to solve a childhood mystery with the aid of a mute detective and hermaphrodite hypnotist. He debates the merits of honesty versus friendship with a fellow colleague over some pot and ultimately decides to be forthright with his opinion. Sam, in turn, assails David with insults over his tawdry magazine writing, degrading it as nonessential to an "artist" such as himself. This small but quickly venomous disagreement forms an ever-widening chasm in these men's lives as they are confronted in the following episodic scenes by loved ones and colleagues who call them out on their ego-massaging, hypersensitive, "artistic" posturing and aspirations. Both men desire the glory and admiration afforded by the arts without being interested in the actual work needed to gain it. Whether it is Sam's wife confronting his incessant need to feel superior above others instead of enjoying the writing process or David's therapist shooting down his own screenwriting efforts for the adulation gained by being a successful, produced "serious" writer, each man is confronted to rip away their self-serving but pragmatic veils.
In its own way, The Blue Tooth Virgin is a twenty-first century successor to The Iceman Cometh or Who's Afraid of Virginia Woolf if I may be so bold. Each one confronts the paradoxical dangers and necessity of self-illusion in one's life. Shot on what must have been a shoestring budget (by Hollywood terms certainly), Brown fashions the film as essentially a succession of solid, twohanders that would be just as effective on a small, black box stage as they are in a proper cinema setting. Directorial flash is set aside to focus clearly on the characters constant give and take as they probe each other via the incisive dialogue. If I had any major criticism, it would be that Brown should have put this project up as a live theatrical production rather than a film. The film's visual paucity would be quickly nullified by quietly observing these characters on a near-bare stage having it out with each other, in front of a live audience that hopefully would have a few writers squirming in their seats as I did in mine. – Todd Konrad, Independent Film Quarterly


"As hilarious as it is insightful, this contemplative comedy is likely to resonate most with anyone who has ever been an aspiring artist torn between conformity and chasing his or her dreams." – Kam Williams, Newsblaze
Festivals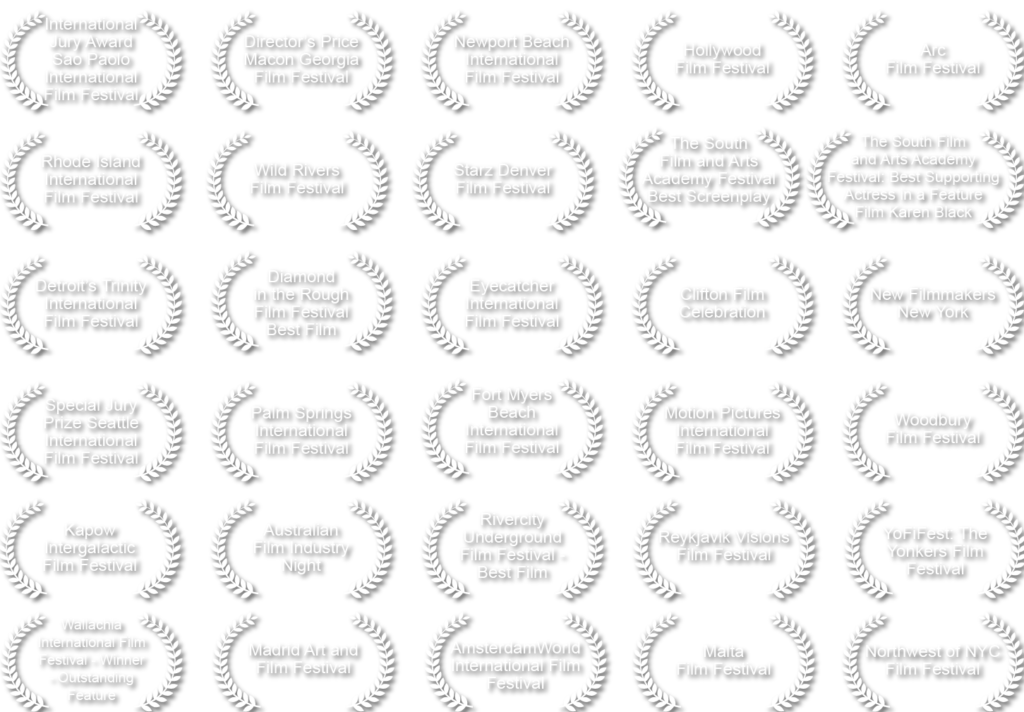 Director's Notes
For the past ten years, I have worked in various areas of the entertainment industry. From film school, to the development executive ranks at the studios, to writing and directing my own independent films, I've had the unique opportunity to observe the business from many different perspectives. One of the common experiences in the film business is that colleagues often ask for feedback as they polish and perfect their work. It's a quid pro quo system, and we all keep tallies about how our friends have responded when asked to participate in this process. Consequently, I've often had to face the uncomfortable situation that is the springboard for The Bluetooth Virgin: What happens when you have to deliver, or receive, "the bad news"?
One of the things I've noticed is the frequency with which relationships are put to the test in these situations. It's not just in the film business. It spans all the arts and beyond. Whether it be the spouse who doesn't believe in a partner's business plan or the musician or painter who is misunderstood by those around him, or a child who never gets picked for the baseball team, we all at some point face a time when we learn difficult truths about our own talent. And so, I felt that the specific set-up of the The Bluetooth Virgin would develop a more universal appeal: An examination of our motivations, of how we construct our personalities to the world, of that moment when we see ourselves as we actually are. I wanted the film to become a philosophical meditation on ego, and the concept of "morphing" – which starts as a joke – takes on a deep meaning in the climax of the film: How often do we "morph" to shield ourselves from pain and the fear of not being loved? And what does it take to break through and be "real" to the world?
But at the same time, it had to be funny. One of the great joys of writing The Bluetooth Virgin was deconstructing the language and clichés of Los Angeles "film speak". So often I hear writers pontificate about how they care only about character, or how important it is to always be re-writing, or how the first act is the hardest. (Or is it the last act?) I felt that the audience, regardless of their level of knowledge about the movie business, would intuit the superficiality of this type of talk, and find it humorous. Another great pleasure of writing this movie was the challenge to stay one step ahead of the audience on their feelings about both the main characters and the McGuffin (the screenplay) at the center of the film. I wanted the perceptions of the audience to "morph": At first we sympathize with David, but then as we learn more, realize it is more complicated. Sam, on the other hand, we feel is somewhat of a dunderhead, but then we think that perhaps he has more depth than we thought. The same is true of the script: Is it really bad? By the end, we're not sure, because so much gets in the way of determining what's really going on, because the motivations of those giving us information have become so cloudy.
By pretty much any standard, the production of the film was threadbare. Shot entirely on location in 8 days, we moved fast and furious through the scenes, after having blocked them thoroughly in rehearsal. In truth, however, I found a great satisfaction in this type of moviemaking. This type of "chamber" movie reflects what I believe is a working style often employed by some of my heroes: Eric Rohmer, Ingmar Bergman, and Robert Altman. (It is at this point that I run the risk of sounding like Sam in the diner scene.) I studied films such as Autumn Sonata, Secret Honor, My Dinner With Andre, and My Night at Maude's to try to determine how to keep a contained story visually interesting and varied, visceral and still beautiful. Working with a tiny crew and budget made this a challenge, but, at the same time, we were able to adapt quickly and all be "on the same page" at any given moment. I had worked with the main team members – producer Roni Deitz, director of photography Marco Fargnoli, and sound designer Fred Helm – on my first feature, and so we had already developed a shorthand which was essential. At the same time, all three are, I believe, at the top of their crafts, and it makes it easy to achieve difficult things when you work with the best.
The casting of the film started with Bryce Johnson. I had worked as a script supervisor on Harry and Max, which Bryce starred in, so I was already familiar with his work. He originally auditioned for Sam, but when he came in again, was able to capture the perfect balance of confidence, practicality and deviousness that is David. For Sam, I was seeking an actor who was immediately likeable and could find the humor in painful situations. Austin Peck had a vulnerability mixed with goofiness that seemed to perfectly meld into this character who doesn't know much about himself, but sincerely wants to learn. For the supporting cast, Tom Gilroy was an obvious choice for the world weary and cynical neighbor, and I had worked with him also on Harry and Max; I met Roma Maffia for the first time on set, but was familiar with the intelligence she had brought to so many roles, and I think she perfectly fit as the hardheaded therapist who doesn't let her clients get away with anything; Lauren Stamile was a revelation from the first word – a versatile actress whose perception and instincts will, I think and hope, lead to a great career; Amber Benson was the star of my first film, Race You to the Bottom, and was gracious to tap her experience with devotees of Buffy the Vampire Slayer to bring to life the strange relationship between fan and idol. As a final note, Karen Black has been one of my favorite actresses for as long as I can remember, and I still consider myself extremely lucky to have had the experience to work with her. As Zena, she is the centerpiece of the film: A wise guru whose life experience and love for truth infects every word, Karen was the only one for this role – she brought a profound spirituality to what was on the page — I am eternally grateful to her for agreeing to it.
The great challenge of cutting the film was tackled by Christopher Munch, who is one of favorite working filmmakers and also my teacher and mentor. Chris was able to find the gems of the scenes and make them shine at the right moments, and he had a keen eye for lines that didn't work or pieces that could be lost without sacrificing the throughline of the long sequences. Curtiss Clayton – who I believe is one of the top editors in the business — advised us throughout the cutting, and came on towards the end to polish the moments that were slow and cumbersome, solve problems that seemed insurmountable, and rearrange elements to add depth and substance. As Chris and I would often say to each other, it was like a master class in editing to watch this maestro at work.
A final note must be said of Yolanda Santosa and Paul Kim who designed the opening titles and quotation cards. I handed them some drawings by an artist I love named H.C. Westermann, a song by Scott Joplin, a synopsis of the myth of Sisyphus, and asked them to put it all together into one. They made me look incredibly good by turning in what I believe is an opening title sequence that serves as a metaphor for the characters in the film, and also one that establishes the tone of the film with wit and elegance.