"Well-considered insights… Sharp banter… Insinuating camera moves…" – The Hollywood Reporter
"'Search Engines' is the Thanksgiving movie that I've been searching for since the beginning of time." — Movies Over the Rainbow
Synopsis
Search Engines is a social satire about the essential relationship of the modern era: human beings and their phones. It's Thanksgiving, and family and friends have gathered for the annual American celebration of togetherness and gratitude. When reception mysteriously goes dead throughout the house, each character must deal with his own crisis: marriages are tested, values questioned and everyone's future is thrown into the balance. If the human experience is one of search – for meaning, purpose and love – this is a story of how technology is leading us further astray.
Credits
Written and directed by
Russell Brown
Produced by
Russell Brown
Kerry Barden
John Baumgartner
Edited by
Christopher Munch
Cinematography by
Christopher Gosch
Starring
Joely Fisher
Natasha Gregson Wagner
Daphne Zuniga
Connie Stevens
Barry Watson
Devon Graye
Michelle Hurd
Jonathan Slavin
Michael Muhney
Philipp Karner
Nicole Cummins
Ayumi Iizuka
Nick Cort
Grace Folsom
Brooklyn-Bella
Press
"Filmmaker Russell Brown clearly had something pertinent he wished to say about our plugged-in, tuned-out obsession with the Internet and was obviously going for a Luis Buñuel-Robert Altman style of social commentary." – The Los Angeles Times
"A wonderfully peculiar and insightful social satire brought to rousing life by a kick-ass cast and an initially clever and gracious script." – Edge Media Network
"A fun Indie film with a great cast including Joely Fisher, Natasha Greyson Wagner, Daphne Zuniga and the hysterical Connie Stevens. I thought this film was funny, and it reminds us that we may just depend on social media and our electronic devices a bit more than we really need to. Perfect for a girls' night out at the IFF." – Night and Day
"'Search Engines' feels like Robert Altman has returned from the grave, so I look forward to Altman's career resurgence in the mind and body of Brown." – Progressive Pulse
"Notable…The brainchild of writer/director Russell Brown, the film is equal parts moving and biting." -WhySoBlu.Com
"From my vantage point, Russell Brown's 'Search Engines' (the title is a pun with several different meanings) is clearly a leading contender for a potential award that adds to the legacy of independent films shown at qFLIX Philadelphia." – Queertimes
Festivals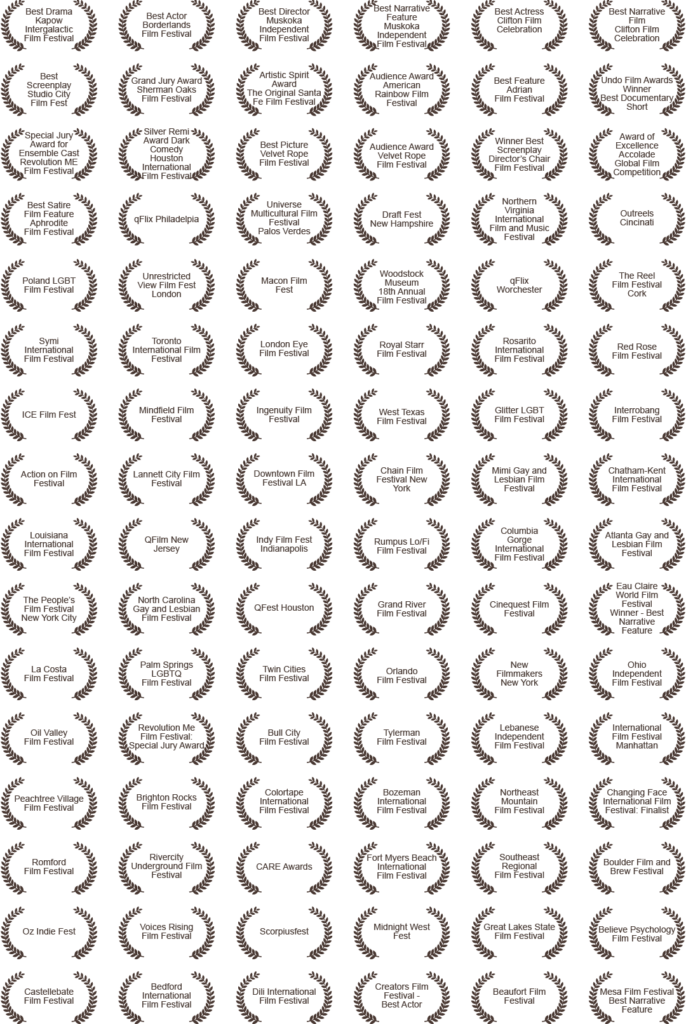 Director's Notes
The process of writing Search Engines was one of relative fluidity and speed, and it's possible that  this reflects the depth to which I'd thought about its themes before they ever coagulated into a script. Like many people, I spend too much time on the phone, on the internet, on dating websites, online shopping. I seem to be constantly searching – and it occurred to me that "search" is really the operative concept of our time. The technological revolution has come about because of this very human activity – our unrelenting, constant, lifelong search for meaning and search for purpose.Whereas we once went to religion or philosophy, we now search the internet for answers. And so, Search Engines is actually having a conversation about spirituality, not technology – the movie is using the phones as a device to reveal the hopes, secrets, insecurities and desires of the characters. The phones themselves are lifeless and inanimate objects. (Considering their power, it's easy to forget this.) It was a deliberate decision rarely to show the screens on the actual devices, because essentially what is on the screens is irrelevant. The important thing to me was how each character is getting tricked up by the false promise of the phone, and in that, by their own flaws.
When I first met with the cast, I told them (somewhat jokingly) we were making a new genre, which I was going to call Metaphysical Farce. As we prepared, I looked at the works of some of my favorite filmmakers – Altman, Antonioni, Buñuel – for clues on how to approach the satirical and philosophical themes. Like certain works of those great directors, I wanted to introduce a situation that almost seemed trivial from the outset – a family Thanksgiving comedy that you might see on cable TV – but slowly allow the story to get weirder and deeper as it goes along. A joke I often tell about this film is that I've made the first Thanksgiving movie in history where nobody eats turkey and passes mashed potatoes at the end. One of the challenges of the film was to introduce this turn slowly and subtly, so that the audience almost doesn't know what's happening until suddenly we are in a very strange place, almost no longer on earth.
Perhaps the greatest joy of making Search Engines was the opportunity for the first time to work with an ensemble cast. Each of my previous films has essentially been a two-hander, and it was invigorating to show up to set with the knowledge that I'd be working with different combinations of actors throughout the shoot. The process of building each character started with a meeting in which we barely talked about the script. As I learned more about the actors, I would re-write scenes and mold them to what I felt would be good material for the actor to use. They were subtle changes, but I think the process contributed to our being on the same page when we arrived on set. It also suggested a fluidity that couldn't help but make everyone feel comfortable. If the cliché fears about working with an ensemble cast include personality clashes and different working styles, the truth is we didn't encounter any of this while making Search Engines. There was an ease, freedom and joy on this set, and I think that spirit shows up in the final product.
At the same time, it was fun to discover what I could count on consistently from each individual. Joely Fisher brought life force and intelligence; Connie Stevens was always graceful and warm; Nick Court had a sly look and wicked sense of humor; Daphne Zuniga always had pain underneath a tough exterior; Jonathan Slavin's nervous energy was unerringly sympathetic. Part of my role as director was recognizing and capturing the most interesting qualities that each actor brought to each character. I noticed early on that this cast was often so interesting with their own choices, I didn't need to provide "direction"; I came to think of it more as providing "energy" and "newness" so that it was fun to do another take, not necessarily trying to achieve something "better".
A number of considerations were operative in the choice to make so much use of zooms and roving camera. The main idea was that I wanted to create a sense of unease by the suggestion of an omniscient "eye" that is watching the proceedings. The camera is not invisible, it's in the house, watching these people, creeping around and "considering" their behavior. Another intention is the suggestion of simultaneous action (which is essential in a movie about a party) but more in the notion that we all (the audience) are also having this conversation simultaneously. This debate about technology is ubiquitous, and it was an interesting experiment to suggest the experience of the "real world" using these camera moves. A third intention was to keep the space feeling dynamic and constantly changing so that the audience never sees the same space in the same way.
A note on my collaborators. Like most filmmakers, I could write pages upon pages about each member of my key crew. Kerry Barden and Adam Richards assembled the incredible cast with taste and sensitivity and intelligence. Christopher Gosch is an inventive and gifted DP who was a joy to be around at every moment and whose spirit and creativity are in every frame of the movie. My often collaborator Chris Munch is a genius who generously takes time from his own projects to cobble together my movies. Another frequent collaborator is Ryan Beveridge, whose score for this movie is inspired and essential. John Baumgartner kept cool during a heat wave in Woodland Hills, a difficult homeowner, and so many other minor catastrophes – I'll forever be grateful. Leah Mann filled the house with Thanksgiving and tailored each room (and phone) to each character with sensitivity. Kristen Anacker, who has designed costumes for all my films, perfectly captured the California casual Thanksgiving spirit as interpreted by each character.
Available Here